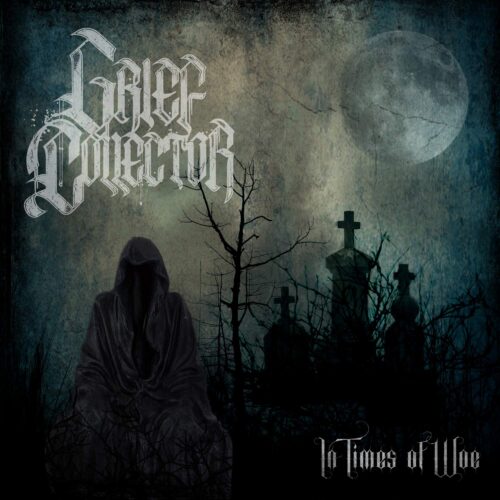 Band/Artist: Grief Collector
Release House: Independent
Genre: Doom Metal
One Sentence Synopsis: Third album from the doom metal band from MN
Series: Standalone
Single/EP/Album: Album
Release Date: May 1, 2023
Estimated Length: 58 minutes
MSRP: TBA
Website: Click Here
Trailer/Video: Click Here
Purchase Site: TBA
Reviewed by: Reverend Leviathan
Final Score: 5 Moons (out of 5)
Doom metal band Grief Collector began in 2017, originally with Robert Lowe (known for Candlemass and Solitude Aeturnus) on vocals. After releasing two amazing albums (From Dissension to Avowal and En Delirium) they parted ways, and In Times of Woe will be Grief Collector's third album, and their first album with new vocalist Julian Küster.
Theme
Crawling out from the crypt of the mind come dark thoughts, thoughts of death and decay, reminders of our mortality; things any good doom metal song can't go without. Depression and despair overcome us in times of woe. The cover art does a very good job of summarizing the mood and overall lyrical content of the album, accompanied by the heavy minor chords that you just can't help but feel, especially when you get into the more somber songs like "Perpetual" and "Lamentous."
Presentation
I've been a huge fan of Grief Collector since I heard En Delirium in 2021. And to be honest, when I first learned about Robert Lowe's departure I was pretty disappointed, and I went into this album a little nervous. When there's a new vocalist it usually takes time for my brain to get used to the change, but about thirty seconds into "Tombs of Tomorrow" showed me that wasn't gonna be the case with Julian! I was legit blown away by this dude's vocal range, and his ability to hold and switch octaves so well. "Slipping Into Seclusion" is a good example of his range abilities as he does clean vocals and a bit more growling as well. Julian Küster is totally the right replacement!
This was one of those albums that I didn't skip one song. One of my favorites is "Ebony Goodbyes" as it's a great mix of both the somber and hard hitting, and Matt has an impressive guitar solo in it as well. Actually, there were quite a few solos on this album, all of which were awesome. "The Foreboding" also stuck out to me with it's hard hitting groove riff, and the bridge in the middle was a bit mesmerizing while self-medicating. I must say, I think it might be their best album to date!
Audience Fit
Metalheads, especially doomheads, would be drawn to this album. It's a very good example of classic doom metal with a bit of a sludge influence. For fans of: Candlemass, Solitude Aeturnus, Crypt Sermon, and Count Raven.
Closing Thoughts
No doomhead's library should be without a copy of In Times of Woe. Possibly Grief Collector's best album and without a doubt going in my Best of 2023 list. 
Theme: 5 Moons (out of 5.0)
Presentation: 5 Moons (out of 5.0)
Audience Fit: 5 Moons (out of 5.0)
Final Score (not an average): 5 Moons (out of 5.0)