As we get to just two weeks before Gen Con, it's made us really think about the fact that RPGs like D&D are best explored with food.  And even though I don't know what the eating rules are about making a full buffet to eat with your RPG buddies at Gen Con, I know that most home RPG games have almost as much focus on food as on quests and monsters.
That's when we came across this amazing podcast that the food podcast, Proof, did not so long ago!  We wanted to share it with you, our DGM readers! Enjoy!
-JT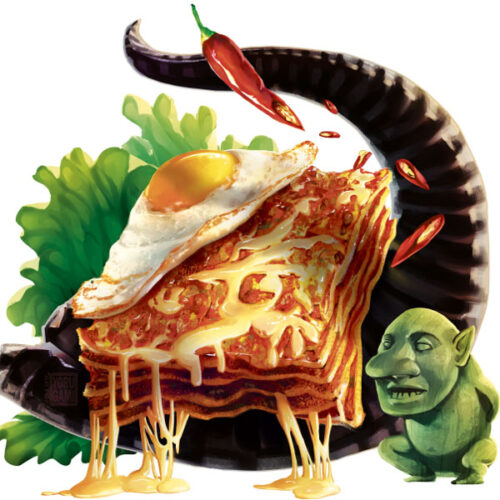 Ever wish you could spend the day immersed in the fantasy worlds from your book, show, or game? Meet the characters, travel the land – or if you're like most of us at Proof – eat the food? From the Legend of Zelda to Dungeons and Dragons, reporter Sarah Vitak talks to the fan cookbook authors who are transforming pixelated foods into irl dishes you can serve on your plate.
Check out Aimee's cookbook, The Unofficial Legend of Zelda Cookbook.
Learn more about Ashley and Isaac's proposed Dungeons and Dragons cookbook, Fantasy Feasting, at the Fantasy Feasting Kickstarter.
Listen to Eric's podcast, Imaginary Worlds.
Learn more about Marisa's work as a folklorist.
See some of Janice's creations in Feeding Hannibal: A Connoisseur's Cookbook.
Listen to Proof: "Dungeons & Dragons and Deviled Eggs"
Image Credits:
Banner from The Unofficial Legend of Zelda Cookbook.
Featured image from the proposed Fantasy Feasting cookbook, image titled "Dire Cow Enchilada Casserole" by Yorugami.