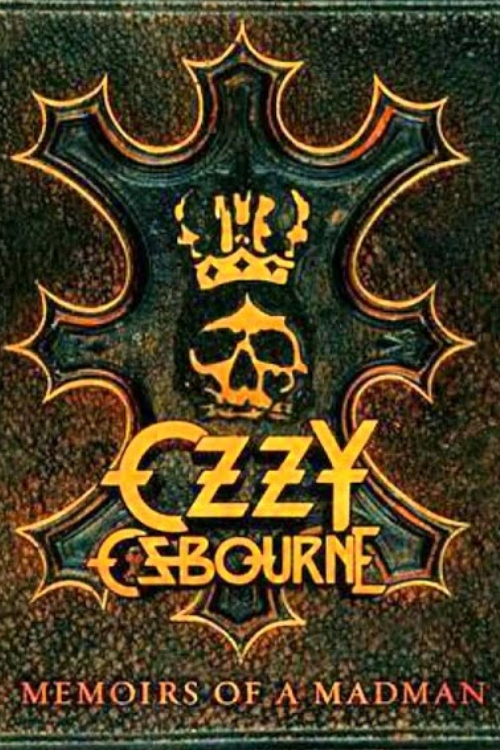 Director: Mark Neuman
Production Studio: Sony Legacy, Epic Legacy, Epic Records, Legacy Recordings
Distribution Company: Sony Music Entertainment
Executive Producer: Sharon Osbourne
Genre: Movies & TV -Studio Specials- Hard Rock Heavy Metal music
Series: The album is said to be an updated version of "The Ozzman Cometh", now out of print
MPAA Rating: not rated
Release Date: October 14th, 2014
Running Time: 323 minutes
MSRP: $17.99 for 3 set disc including 2 DVD's and a CD
Other Formats: Vinyl record $27.97, Audio CD $9.49, MP3 $ 11.99
Website: Click Here
Trailer: Click Here
Purchase Site: Click Here
Final Score: 5.0 Moons (Out of 5)
Welcome to DarkestGoth Magazine's Scary Movie Night. Before Scary Little Green Men, Memoirs of a Madman hit the pre-order market with a totally rockin' 3 disc set plus a vinyl record and memorabilia of all sorts in a big box set for all of us die hard Ozzy fans. It is is full of scary creep shows. Now available is the complete DVD/CD set. You may purchase the vinyl record separately.
Presentation:
Get ready to be whisked away into the land of Ozz. Amidst lush scenic Gothic sets, the Prince of Darkness rules the universe bringing forth his exquisite band of musicians to form an alliance of hard rock and heavy metal mastery. As the music takes hold, a possession of sorts takes place deep within the psyche of the listener. On a visual note, extremes from the world beyond awaken a new sense of perception leaving the soul to linger in its presence.
Content:
Packed with thirty one music videos including an alternate version of "Mama, I'm Coming Home" and 2 cover versions of Black Sabbath's "Changes" one with Zakk Wylde on piano and another with Kelly Osbourne as ultimate Goth diva singing a duet with her father, "DVD One" offers a lot of extraordinary video footage. Filled with Goth performances the video takes you on a journey through Medieval times in European flair on songs like "So Tired" about a hunchback living in a primitive cottage by candlelight, and "Back on Earth", a video about a vampire risen and old fashioned torch burning witch hunt. It goes on to the ultra modern world where Industrial Goth imagery takes over in songs like "Let Me Hear Your Scream" and "Gets Me Through". In classic film noir mixed with sepia tones you will find songs like "Mr. Tinkertrain" and "Road to Nowhere". "I Just Want You" has a steampunk pagan feel to it with spectacular videography reminiscent of a Midsummer ritualistic ceremony. "No More Tears" highlights neoclassical architectural furnishings mixed with neon color and shows the craziness of the storyline in Ozzy's demeanor as he crawls across the floor. "Perry Mason" takes you back to the 50's as if you were in in the classic television series set where typewriters and metal filing cabinets were part of the legal office decor as it warps to a post apocalyptic barbed wired electric chair and industrial crank lever, all for justice of a small girl's wish. "Dreamer" whisks you into a fantasy world on a gorgeous snow white winter's day against the black costumes and features a beautiful string orchestration.
Ozzy is known to bring in the best musicians for his work. His band mates are masters and each have their own brand of talent to bring to the table. Just about every musician that ever worked with Ozzy makes an appearance somewhere in these videos. Some of them stuck around and became ordained rock gods in the Ozzy hierarchy hall of fame, while others went on to become permanent legends in their own supergroups like Alice In Chains and Metallica for example.
In the performance and interviews disc you will find everything from early rehearsals, to concert footage, to recording sessions and green screen video making. Check out Live at Ozzy's Bunker. Grab some Ozzfest footage and catch a glimpse into the rock world of photography at a real photo session. Look behind the scenes. See how music has evolved throughout the years. Catch a glimpse of those behind the scenes and grab a few moments as Ozzy works under the direction of his son Jack, director of "Life Won't Wait".
Audience Fit:
In the world of rock n' roll, heavy metal, and all of its offshoots, there are few artists who brought Goth to the forefront in both sound and presentation.This introduction became widespread and is the culprit for all new Goth inspired ideas to arise. As Prince of Darkness, Ozzy is the master who holds the key and opens the gate to the underworld. So as far as audience fit goes, for the Goth community and Ozzy fans, this set is a "must have" for your home entertainment collection.
Closing Thoughts:
As Godfather of Hard Rock and Heavy Metal Ozzy captures the audience by storm in this 3 set collection which includes DVD one "The Music Videos" with bonus footage, DVD two "Performances and Interviews", as well as a music CD. Packaged finely and embossed in gold, it focuses mainly on the artist's solo career and touches a bit on his Black Sabbath days. I highly recommend that you get the whole set!
Presentation: 5.0 Moons (Out of 5)
Content: 5.0 Moons (Out of 5)
Audience: 5.0 Moons (Out of 5)
FOR MORE CONTENT REVIEW PLEASE VISIT: https://darkestgoth.tumblr.com/post/626295954301190144